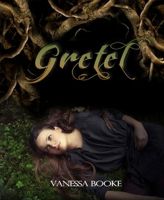 Gretel (A retelling of Hansel and Gretel)
Periodically, I will review books on this site. I am actually looking forward to reading this one, as #1, Vanessa Booke is a friend of mine (notice how pretty this blog looks?), and #2, Hansel and Gretel used to scare the crap out of me when I was a kid. I don't know, something about being abandoned by parents, taken in by wickedness, tempted by candy...It gives me shivers just thinking about it...
Anyhoo, I'll be reading this today in the pick up line, while waiting for my kids to be released from school, and will let you all know how it is when I'm finished. Deal? I love the cover, BTW. Gorgeous.